video game

industry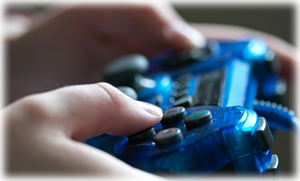 From humble beginnings in the 1970s, the video game industry now exceeds that of film. Reuters estimated 65 billion dollars the value of global sales in 2011, up $ 2.3 billion compared to 2010. Other examples of gigantism in the industry: between 2006 and 2011, the Nintendo company sold 86 million Wii consoles, Microsoft sold 55 million Xbox consoles and Sony sold 50 million PlayStation 3 consoles.
Beyond these figures, the video game industry is primarily an amazing machine to develop and commercialize innovations increasingly avant-garde. SimAction invites you to take control of a video game editor that wants to adopt the best practices in marketing. Here are the main features of the industry in which you will operate :
Customers
Preferences of gamers vary considerably by age, nationality and gender. There are five main market segments: action games, family games, sports games, shooting games and racing games. Each segment is obviously addressed to a specific category of the population. For example, the buyer of sports games has averaged 45 years, while action games are aimed primarily at teenagers.
Competitors
Your employer is obviously not the only video game editor. Competition arises when two companies are launching a video game in the same market segment. Sooner or later you will face opponents who initially had the same human and financial resources than you. To stand out, you need to make better choices to meet your target customers and well control your costs. Feel free to make a day of your actual or potential competitors.
Suppliers
Your company transacts with many external partners. It subcontracts production, transportation, storage and sale of video games. In addition, your department order surveys, pay television stations and magazine publishers for advertising broadcast, it works with a firm to create a website and hire firms to manage public relations.
Substitution products
Video game is obviously an entertainment among others. The entertainment offer evolve constantly and video game editors should consider the consumers purchasing power. Do not forget the incredible amount of games offered for free on Internet.
The threat of new entrants
SimAction does not allow entry or exit of the industry. However, no segment is immune from competition. The cost of entering a new segment is very low and the video game editors have an incentive to diversify their offer.