kayak

manufacturing industry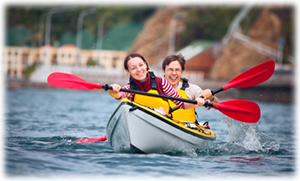 At the beginning of the simulation, the factory has been built, the offices are brand new and you're ready to fight against your competitors. But you must first know the industry in which you operate.
Environment
The profitability of the kayak industry is strongly influenced by seasonality. The market is larger in the northern hemisphere, sales reached their peak during the months before the northern summer, that is to say between January and June. In the second half of the year (July-December), the market is generally limited to the south of the United States, Australia and New Zealand.
Customers
Preferences of kayakers vary considerably by age, nationality and gender. Some people have extensive experience of sea kayaking and looks for high quality while others are novices who simply want a commodity product. The key is to offer a price related to the offered quality.
According to a confidential report obtained by your company, the four territories with the highest market potential for selling kayaks are Canada, United States, Scandinavia and Oceania. Your company must establish a wholesale price for each market in local currency. This price does not include transportation costs that are borne by the distributors and retailers. The wholesale price is usually multiplied by 2.5 to determine the retail price.
Competitors
All teams of the simulation are seeking to sell their products to the same customers. Competition arises when two companies manufacture kayaks with similar characteristics. Sooner or later you will face opponents who initially had identical resources to those of your business. To stand out, you must target a specific market segment and well control your costs.
Suppliers and partners
Your firm is part of a sophisticated business network. It buys its raw materials and equipment from suppliers around the world, grants its expansion projects to local contractors, commissions market research, uses subcontractors for the conveyance of goods and grants retail to specialty shops.